CDPQ Infra: A better understanding of the model
CDPQ Infra's projects are currently attracting a lot of attention. In a context where public transit is a key topic and its development is essential for the environment and future generations, it is important to take an open-minded look at what our experts are proposing and the merit behind CDPQ Infra's arrival in the public transit domain.
Why talk about efficiency when we should be talking about public transit? Are the two compatible?
First of all, let's remember that the mission of the Caisse de dépôt et placement du Québec (CDPQ) is to make Quebecers' savings grow. This is the very foundation that underlies all of its investments. But is this search for profits incompatible with developing a quality transportation solution?
Ultimately, the expected return is not guaranteed and will only be achieved if the proposed transportation solution is adequate and meets real needs. This is the basis of the link between our expertise and public interest. This solution has to make sense in terms of service, while being viable and achievable within a reasonable timeframe. Seeking a return becomes a powerful incentive for efficiency, but cannot be at the expense of the network's acceptability and adoption by the populace.
This is why the private sector is generally not attracted to this type of investment, because the returns are generated over the long term.
Ultimately, the more people who use the REM, the more revenue it will contribute to meeting the performance target. And the more public transit users there are, the better it will be for mobility, the environment and society's collective well-being.

A virtuous circle is created: when a user takes the REM, they are helping to finance their future retirement.
The purpose of CDPQ Infra
CDPQ created an infrastructure subsidiary, CDPQ Infra, to act as principal contractor for major public infrastructure projects in Québec, elsewhere in Canada, and around the world. Why? Because on a global scale, the infrastructure deficit is growing and investments in major infrastructure projects, including public transit, are not keeping pace. Long-term investors, like CDPQ, can play an important role in bridging this gap by providing capital and expertise.
It was during the financial crisis of 2008 that CDPQ realized that infrastructure investments offered more stable and resilient returns in the face of market fluctuations. In this context, CDPQ began building a larger infrastructure portfolio. Now, rather than just investing in the four corners of the world, the appeal is to use this capital to also contribute to developing transportation here by creating a team of dedicated experts. Hence the reason behind CDPQ Infra's arrival.
A beneficial approach on several levels
The organization's model is unique: acting as an investor and, simultaneously, as principal contractor. In concrete terms, following a mandate received from the government, CDPQ Infra ensures the realization of a transportation project from A to Z, from planning to completion, including consultations and financing. The company also assumes the risks associated with the project: financial risks, construction risks, traffic risks, etc. It is this risk taking that explains the desire to identify a viable and realistic solution that will be able to see the light of day.
For public authorities, this is a lever for ensuring the completion of major projects, by contributing to part of the financing while avoiding taking significant risks (cost overruns, delays, loss of goodwill, etc.).
This model sparks curiosity even on a global level as governments are looking for innovative ways to finance infrastructure projects which, let's not forget, are in deficit.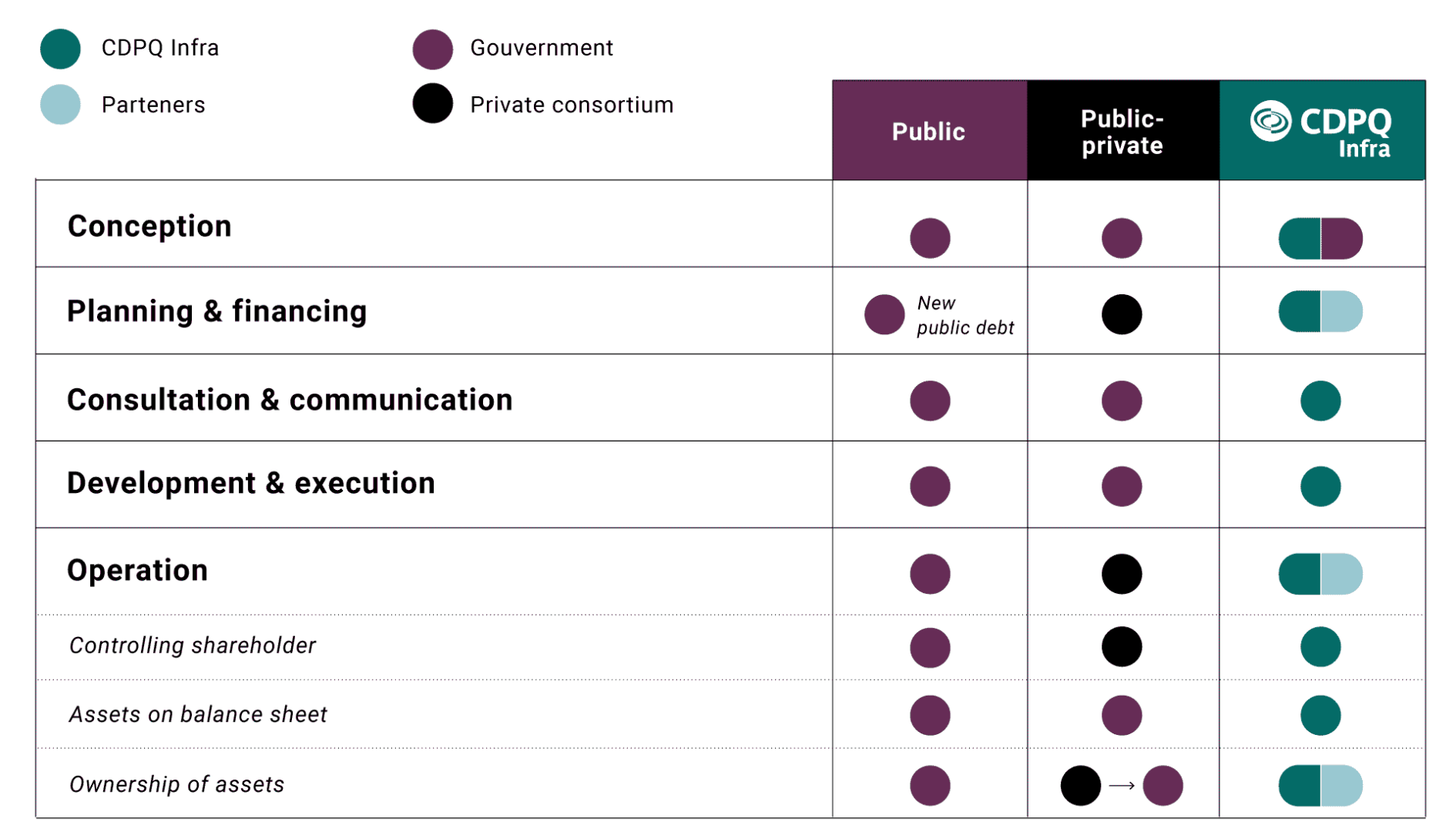 Example: Construction of the REM under way
In 2015, the Government of Québec asked CDPQ to study a structuring public transit project for the Greater Montréal area. At the time, two needs had to be met: a link to Montréal-Trudeau International Airport and another to the South Shore. The file had not progressed for years and it was then that CDPQ Infra, a CDPQ subsidiary, was given a mandate by the government. After eight months of intensive studies, the subsidiary submitted a solution that was able to meet both existing needs with a single project: a 67-km, fully automated electric light rail network with 26 stations. The REM was born.
"This is a first in history: a public transit project with a potential return for the Government of Québec."
Leading the way with a complementary approach
These are challenging times for public transit services, and the health crisis does not help the financial environment, with many operators calling for additional funding. This situation must not lead to a decline in public transit, which would inevitably have consequences for mobility and the environment. This means being receptive to other funding structures and proposing new methods, and sometimes even a paradigm shift.
This paradigm shift must not be at the expense of other networks. For this reason, it is important to work closely with all transportation companies and the ARTM. In this regard, CDPQ Infra has initiated new ways of doing things that lead to innovation for all:
The mechanisms defined for land acquisition and expropriation in Phase 1 of the REM paved the way for an approach that is now defined for everyone, with Bill 66, in order to simplify the processes that were in place and accelerate certain infrastructure projects that are important to society.
Contributions related to the sharing of increased land value, allowing a portion of the profit raised through future real estate developments to be reinjected into public transit, have given the ARTM additional leverage for the financing of any transportation project in the metropolitan region.
Beyond innovation, the introduction of a structuring transportation network will boost the existing offer and the long-term efficiency of the overall network:
The arrival of the REM will allow the redeployment of bus networks to optimize local service for the benefit of communities, and increase the number of trips.
Metro lines will become less congested during rush hour, attracting more customers over the long term.
The REM will encourage many users to leave their cars at home and take public transit. Those who were already using public transit will see their quality of service increase by avoiding long bus rides to get to the metro.
With frequent service, the arrival of the REM will encourage more users to take public transit outside of rush hour and also use the metro, which will have several connections with the REM.
We need to rally behind a vision where networks are not in competition with each other, but where each contributes more broadly to providing the best possible service to users. Any new, modern metro line increases the attractiveness of public transit in general, so all networks can benefit. And let's not forget that investments in public transit generate benefits that go far beyond the economic aspect: reduced greenhouse gases, gains in urban space and revitalization of neighbourhoods, improved quality of life, time savings for users, and much more.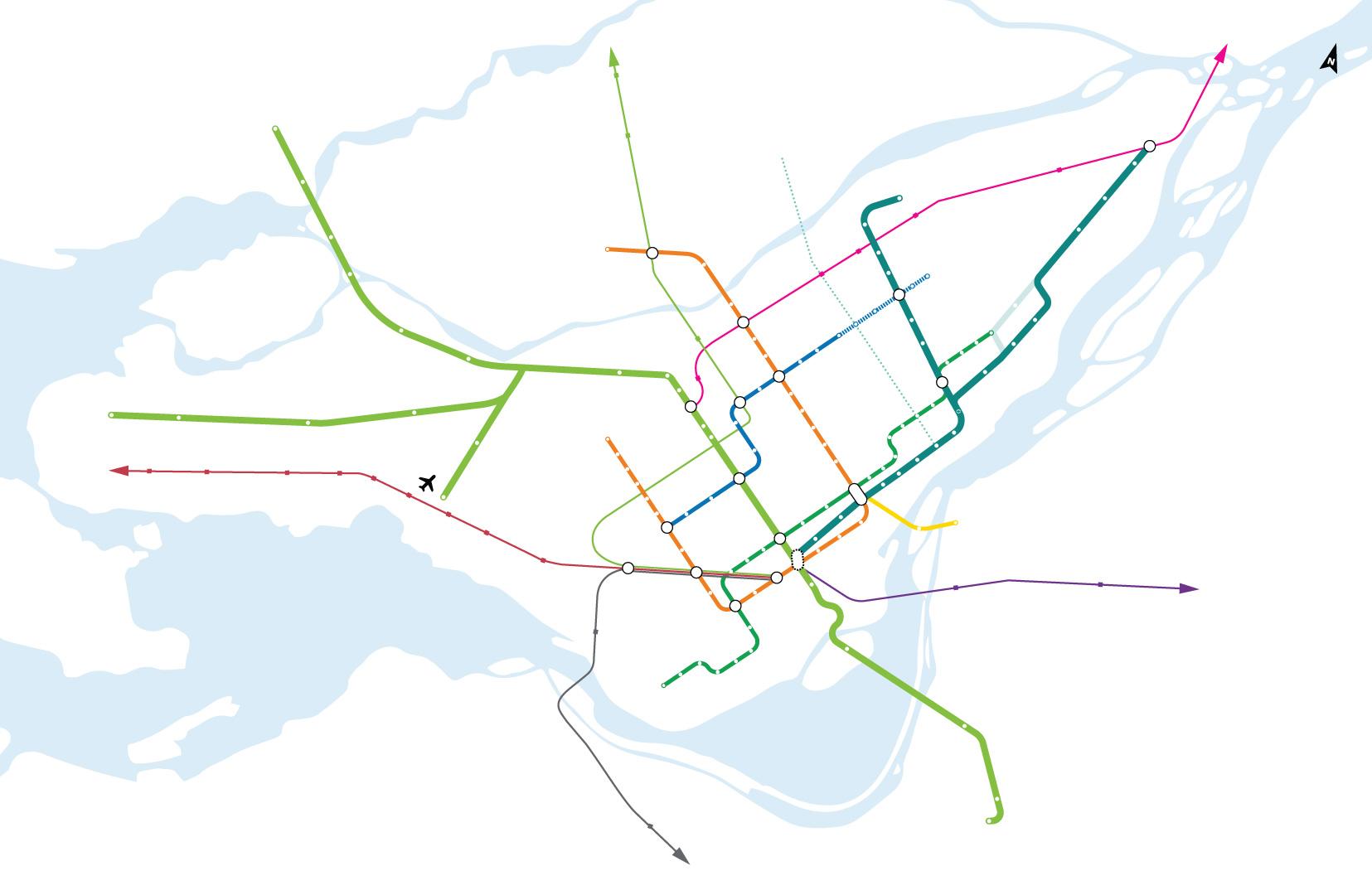 The REM: A collective success
If projects such as the REM prove successful, as CDPQ Infra hopes, the whole of Greater Montréal will benefit. Citizens will have access to a modern public transit system that will serve communities and contribute to neighbourhood development, as well as generate long-term returns for Quebecers' savings.